Newest Webinars:

We produce The Business of Freelancing series of webinars, meetings and workshops for our members and non-members alike.
While we finalize our fall and winter schedule for this year, here's your chance to view for the first time or a refresher and FREE OF CHARGE to all members in good standing, and members of our partner organizations*, such as the CMG's Freelance Branch and the Society of American Travel Writers Canadian Branch.
We'll release additional re-runs in the next few weeks.
If you're a member of one of our partner organizations with a discount, use our form to apply for your discount.
If you'd like to pitch a webinar, workshop or meeting, then use our form to submit your idea.
* RELATED ORGANIZATIONS: If you belong to an organization operating in the Canadian media environment, use this form to get our attention. We'd love to find out how we can work together for everyone's benefit.
"How to Win Government of Canada Contracts"
How would you like to land a client that spends ABOUT $20 BILLION YEARLY on goods and services?
That client exists: The Government of Canada.
Even sole proprietors can sell directly to the feds: no matter where you are in Canada, whether or not you offer bilingual services, you'll benefit from this guide to the basics led by Ottawa-based Marion Soublière of M.E.S. Editing and Writing Services.
Marion has been winning Government of Canada contracts since 2008.
This has been one of our most popular Business of Freelancing sessions ever. And it's now FREE OF CHARGE TO CFG MEMBERS and our affiliates.
Log in to view this webinar
"Tax Time for Freelancers – 2021 Tax Year"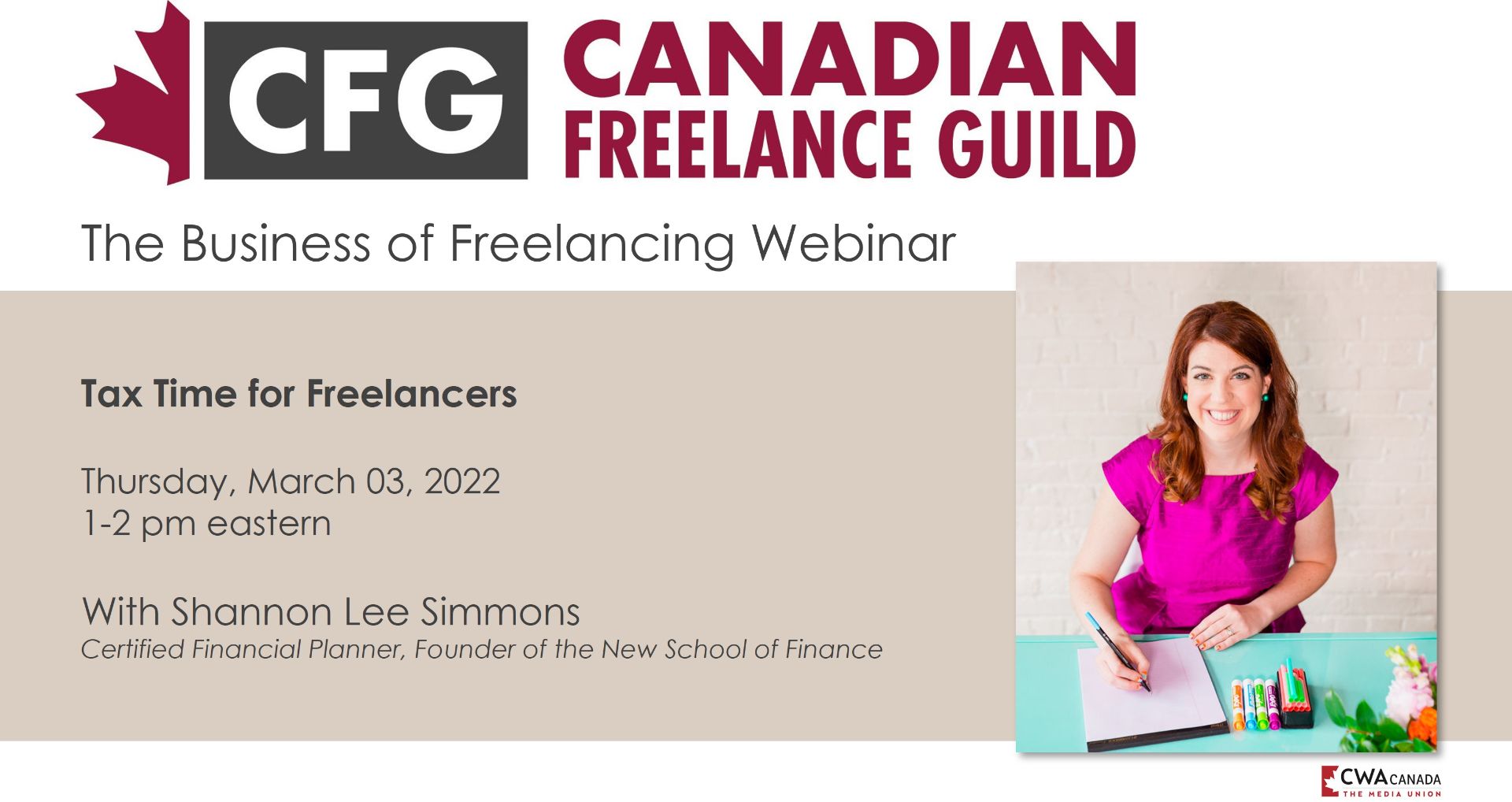 Financial guru Shannon Lee Simmons helped us last March get ready to file our 2021 income taxes.
Guess what? The deadline is fast approaching to file for 2022.
Get ahead of the curve as Shannon takes you on a deep dive into eligible and ineligible deductions, GST / HST returns, income from foreign sources, and yes, what to do if you end up taking that shoebox full of receipts to a tax professional.
Shannon answered nearly 30 question in a fast-paced back and forth with the audience.
This webinar is now FREE TO ALL CFG MEMBERS and to members of our associate partners.
We plan to bring Shannon back live this year to help you prepare for your financial year end with another of her fact-filled sessions.
Log in to view this webinar
"Getting The Most Out of LinkedIn Learning"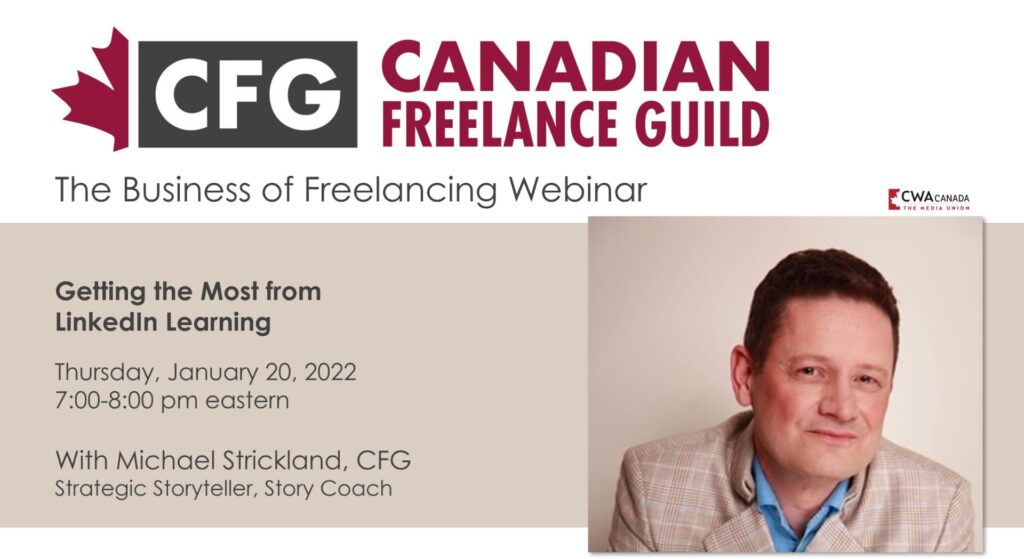 LinkedIn Learning is one of the most valuable benefits you receive as a member of the Canadian Freelance Guild. The resource contains thousands of training videos to help you learn skills across many disciplines. To buy it for yourself would cost $342 a year.  If you'd like to register for a LinkedIn Learning account, please contact the CFG Organizer  for instructions.
In the webinar, CFG member Michael Strickland gives you a basic introduction to the learning platform, then talks about his experience, what he liked and what he'd change. Then he takes you through snippets of courses that he thinks are of value to freelancers and does some live searches on topics that participants ask about.
Log in to view this webinar
"Managing Your Social Media Expectations"
In this hour-long session, presenter Rebecca Coleman looked at the different social networks and which ones may be important for freelancers to participate in,  talked about some best practices for those platforms, and then there was a great Q&A to help answer all your social media questions!
Rebecca Coleman teaches Social Media Marketing at the British Columbia Institute of Technology (BCIT), and is a Social MediaStrategist. She is also a blogger and the published author of two cookbooks, and regularly contributes to the GoDaddy Marketing Blog.
Log in to view this webinar
Rebecca passed along some helpful links to videos she mentioned during her presentation:
How to start a Facebook business page
Three types of posts for Facebook pages
Understanding the Facebook Algorithm
How to use Creator Studio to schedule content 
And a couple of her personal favourite social media resources and the pdf of her presentation: 
Coming Soon