This series of posts by the Born Freelancer shares personal experiences and thoughts on issues relevant to freelancers. Have something to add to the conversation? We'd love to hear from you in the comments.
Mary Ito, the popular Toronto-based veteran broadcast journalist, has had a successful career in both radio and television at a number of stations, most recently as a regular host on CBC Radio. In fact, if you owned a TV or radio anywhere in Southern Ontario (and sometimes even farther) over the last few decades it would have been hard to miss her cheerful voice and wicked sense of humour. Ito's strength, however, has always been her unique ability to effortlessly shift from medium to medium, and from topic to topic—from the lighthearted to the much more serious and profound. Her natural sense of curiosity, combined with well-honed journo skills, have served her well throughout a career both extremely varied and highly demanding.
Her latest bold venture has been to return to freelancing in order to take on a number of projects including an exciting new challenge: podcasting. Never one to do anything by half-measures, it will surprise no one familiar with her work to learn Ito has launched not one but two original podcasts this year.
The Born Freelancer talks with Mary Ito about podcasting
THE BORN FREELANCER: Mary Ito, welcome! You're a freelancer again after being under contract for so long at so many places. How does it feel?
MARY ITO: Very freeing! I always wished there were more hours in a day to do all the things I wanted to do when I was working full time. But when you're doing a news or magazine-style show as I've done in the past, there's so much to stay on top of. A lot of reading, research and prep work that you have to do on a daily basis. And making time for family and friends too—that's always been a priority. There wasn't a lot of time for other stuff like continuing education, special projects and of course having more fun!
TBF: Which leads us to your two new podcasts. Let's start with the CRAM Podcast.
MARY ITO: CRAM is an acronym for "Communicating Research And More." Our intent is to let the public know about innovative, exciting research and big ideas that are being generated in our universities and other institutions—knowledge that can impact lives. I interview researchers and big thinkers across Canada. Topics have ranged from "Love in the Time of Covid," "Why We Make the Decisions We do," "Rethinking Pain," and "Lessons on War and Sex."
TBF: And your second podcast, Passage to Wonderland?
MARY ITO: PTW is a literary podcast in which I read excerpts from books old and new. We've showcased passages from the Giller Prize-winning novel "Fifteen Dogs," the bestseller "The Woman Before Wallis," and the new book "Step," a collection of short stories by award-winning writer Deborah Ellis. All the excerpts have some kind of insight, discovery or conclusion to help provide someone with a sense of completion at the end of a busy day.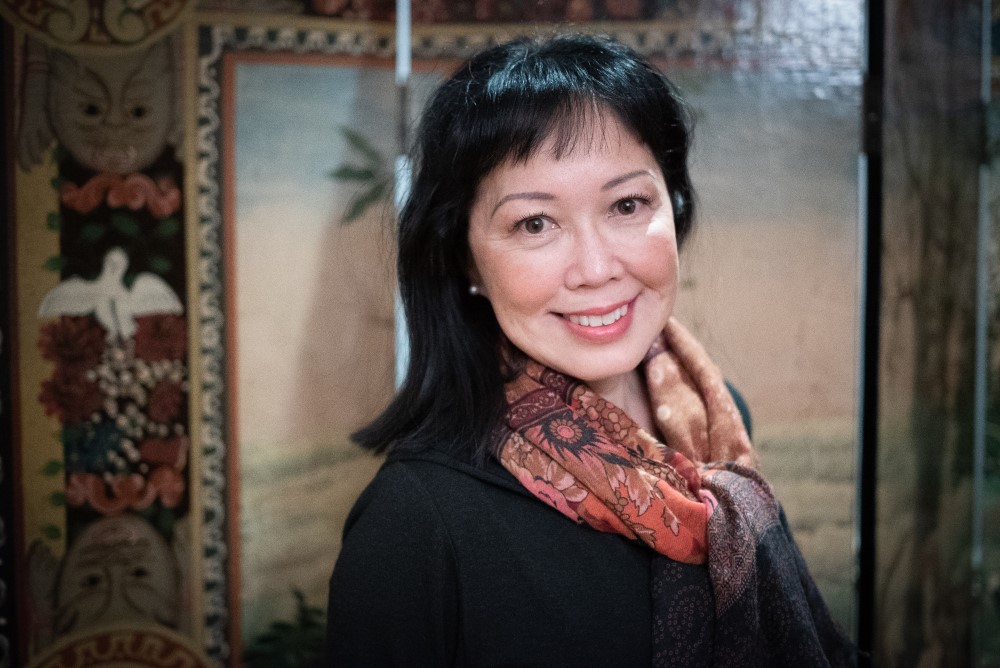 TBF: I recognize the name CRAM. That was the research festival you organized in Toronto back in 2019. So let's focus on it and how the podcast evolved from it.
MARY ITO: I created CRAM because I realized that most research done in universities never reaches the public but has the potential to impact lives in all kinds of ways. So I partnered with all four of Toronto's universities: The University of Toronto, York University, OCAD University and Toronto Metropolitan University (then Ryerson) to share their most innovative and exciting research with the public. We held over 30 free events on one night, which included interactive talks, art and video installations, demos, dance and music performances, etc. It was fantastic! Then the pandemic happened and we decided to launch the CRAM podcast at the end of January as we felt it was important to keep sharing new research and ideas with the public.
TBF: You make it sound so obvious and easy! But I bet it wasn't.
MARY ITO: I knew nothing about podcasting when I started. I just thought it was important to keep CRAM going in some form. I'd also left regular employment at CBC to devote more time to projects I wanted to pursue like CRAM and Passage to Wonderland. I started doing some research, spoke to people who were doing podcasts and/or producing them, and thought, it's now or never. The hardest thing for me was actually committing myself to doing it. And the hardest thing now is not the actual content or production of the podcast but the marketing of it and spreading the word.
TBF: Which is the number one challenge for many freelancers when launching their own brand. So how did you get it off the ground?
MARY ITO: It actually came together in an accidental way. I was mulling over the podcasting idea and hadn't really taken any definite steps at that point. And then I happened to be talking with a friend of mine, Sarah Michaelis, a former television producer I'd worked with, and mentioned my podcast idea to her. She had left media but missed journalism and offered to work with me as my producer (knowing that I had zero dollars to pay her at the time!). She'd had her own production company for awhile producing videos but never a podcast. But I didn't doubt that she could do it because she's very talented, smart and adaptable. It was a gift to be able to work with her again!
TBF: What is her role as your producer?
MARY ITO: Sarah advised me on setting up a home studio in my basement and what equipment I'd need. She does all the recordings of interviews, editing and packaging of podcasts. She vets my scripts and we discuss potential guests and topics along with my wonderful researcher Natasha Chawdhry. I'm lucky to have such a great team!
TBF: So assembling a talented team seems like more than half your battle won. But what about your role as host? What new challenges did podcasting throw at you?
MARY ITO: This has been real "on the job" training for me. I've been so used to working in a traditional radio format hosting shows with a lot of moving parts and doing short interviews. I've had to get used to long format interviews of 30-45 minutes (which I really love) and bringing more of myself into the conversation, which I'm not used to doing.
TBF: Many freelancers are still trying to figure out how to monetize their podcasting efforts. Is that an issue for you too?
MARY ITO: The purpose of the CRAM podcast is not to make money—it's to share innovative research and ideas that impact people's lives. But it does take money to run it and I couldn't pay anyone at the start. It was truly a passion project for all of us. But I was fortunate to received funds from two anonymous donors and the Temerty Foundation. Now I'm able to cover expenses and pay Sarah and Natasha. I'd like to keep it as a volunteer project for me—a way to give back to the public and the amazing researchers (who really are unsung heroes) in Canada.
TBF: "Podcasting is the future of radio." I've heard that often said lately. What are your thoughts?
MARY ITO: I'm not a radio or media guru so don't know the answer to that. I'm biased since I grew up with traditional radio and worked most of my life in it. I think there's something magical about a bunch of people all listening to the same thing at the same time. The same magic you get when you go to the theatre and you all watch a movie together. But I wonder if listening to radio is becoming more circumstantial rather than intentional—especially given the pandemic and the shift in the way we work. Podcasts fit into the way we live our lives now. On demand, whenever, wherever. I think people, especially younger generations, want those options and podcasts that offer a broad range of content that mainstream radio can't.
TBF: Finally, Mary Ito, any advice to other freelancers who want to create their own podcast?
MARY ITO: Actually does anyone have any advice to give ME? I'm still so new at this I don't really feel qualified to give advice. But from the POV of a newbie podcaster, I would say try and create a podcast that has something different to offer from what's out there—and there's a crazy amount that's out there! Just try and stick with it and be consistent with your content. That's the advice I was given.
---
Our thanks to Mary Ito for sharing her insights and experiences behind the creation of her two new podcasts. You can find them online here: