Free event for media students, volunteers, interns and precarious workers
Wednesday, November 12
6:00 PM
The Foundery, 376 Bathurst
Join us for drinks and snacks as we meet one another and talk about the opportunities and barriers facing us in finding sustainable work in the media.
We'll share advice and stories on unpaid internships, using social media, diversity in journalism, and finding meaningful work.
Featuring a Q&A with:
Septembre Anderson is a writer, editor and social and cultural critic who has been extremely vocal about the negative impact of unpaid internships. She appeared on CBC Metro Morning and at former MPP Jonah Schein's press conference tabling a bill about unpaid internships.
Nicole Cohen is an assistant professor in Communication, Culture and Information Technology at the University of Toronto Mississauga, where she researches cultural labour and collective organizing. She is the co-founder of Shameless magazine and a former freelance journalist.
[caption id="attachment_1708" align="alignleft" width="315"]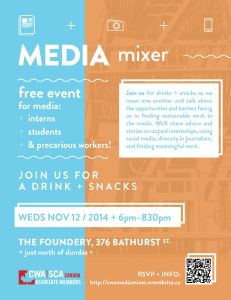 Credit: Sarah Minor[/caption]