CMG Freelance and CWA Canada Associate Members are collaborating on three upcoming events in Halifax. Two free training and networking sessions for students, freelancers and other media workers, and the third is an action in solidarity with the Halifax Chronicle Herald workers who are currently on strike.
Halifax Media Mixer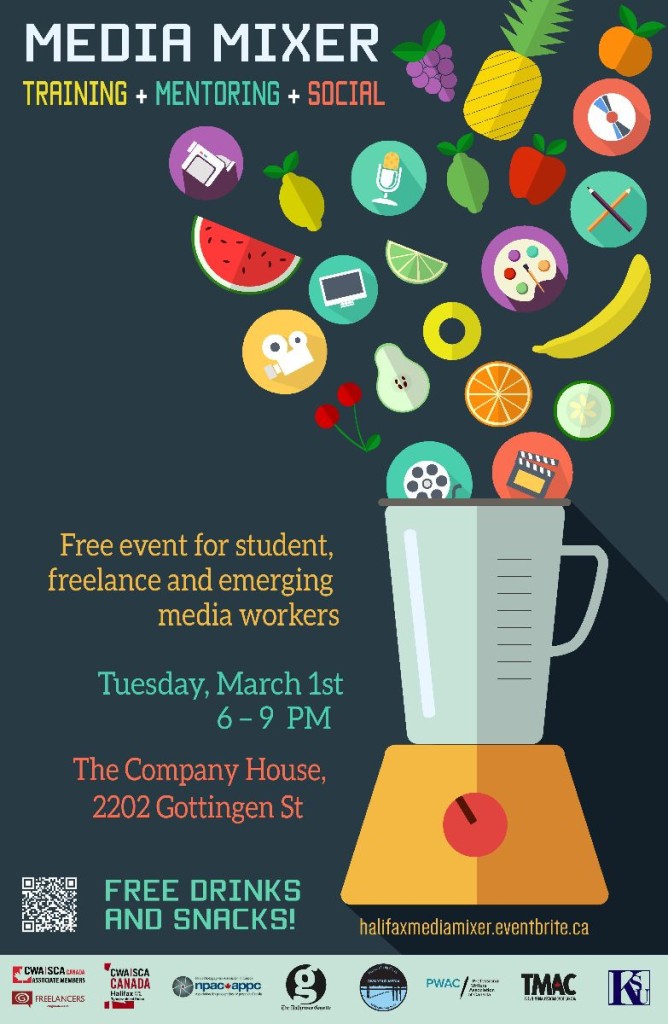 Tuesday, March 1st  | 6 PM - 9 PM
The Company House, 2202 Gottingen St, Halifax
Free event! REGISTER HERE
Join us for an evening of training, mentorship and socializing with other Halifax media workers, freelancers and students. Free drinks and snacks will be served!
6:00 -  Doors open
6:15  -  How to Build a Sustainable Career in the Media: We will share tips and advice for finding meaningful work and navigating today's media sector as interns, freelancers and employees.
7:00  -  Speed Critiques/Mentorships: An opportunity to chat with and get advice from journalists in print, photography, tv and radio. You can also sign up for a one-on-one critique.
OUR MENTORS INCLUDE: David Pate (journalist at CBC), Don Genova (freelance journalist), Frank Campbell (news editor, Halifax Chronicle Herald), Martin O'Hanlon (former parliamentary editor at The Canadian Press); Maureen Googoo (editor at kukukwes.com), Sandra Phinney (freelance journalist), Stephen Brake (photo editor).
8:00  -  Social! Enjoy some drinks and snacks on us.
EVENT PARTNERS: Dalhousie Gazette, Halifax Media Co-op, Halifax Typographical Union, King's Students' Union, News Photographers Association of Canada, Professional Writers Assocation of Canada, Travel Media Association of Canada
MORE INFORMATION: halifaxmediamixer.eventbrite.ca
This event is wheelchair accessible
---
CMG Freelance Workshop: Sell Your Stories!
Wednesday, March 2nd | 11 AM – 1 PM
Creative Lab – Halifax Central Library, 5440 Spring Garden Rd, Halifax
Free event! Register Here
Freelancers at all levels of experience are welcome to join us for a light lunch and workshop.
PART 1 -  Freelance writing opportunities. Where oh where?
Freelance writer Sandra Phinney will provide an overview with insights into the freelance writing world—from writing for magazines, websites, and trade journals, to writing for the private and public sector. She'll provide tips on marketing yourself as a freelance writer, and talk about the importance of re-purposing/re-cycling your material to sell more than one story about the same subject.  If time allows, she'll provide examples of how you can partner with other professionals to provide full-meal-deal services to land contracts.
PART 2  -  The Perfect Pitch
Freelance journalist Don Genova leads this part of the workshop which will go over all the basics needed to write a great query.  Ideas can be easy to come up with; the hard part is convincing editors and producers they should buy them. Come prepared to do a little bit of writing and an idea you're willing to share for development.
MORE INFORMATION:  www.sellyourstories.eventbrite.ca
This event is wheelchair accessible
---
Student and Freelancer Solidarity Picket for the HTU
Wednesday March 2 | 2:00 – 3:30 PM
The Chronicle Herald Offices, 2717 Joseph Howe Dr.
Join on Facebook!
We are calling on students and freelancers to join the Halifax Typographical Union (HTU) picket lines at 2 PM on Wed, March 2nd at The Chronicle Herald Offices.
The HTU is on strike to prevent wage cuts, job losses, and worsening working conditions. They are fighting for their jobs, but also so that good jobs at The Herald exist for the next generation. If wages fall at the Herald, it will be harder for freelancers and entry-level workers across the industry to negotiate fair pay.
Media companies across the country are cutting staff, resources, and entire departments in an attempt to reduce organizational spending. That's leaving us, as emerging and low-paid workers, left to fill the gaps with more content, yet with less time to devote to our craft. We have to work together to turn this around.
Join us on the picket line to help the HTU put pressure on The Herald to negotiate a fair contract!
CWA Canada Associate Members
CMG Freelance
Dalhousie Gazette
Halifax Media C0-op
Travel Media Association of Canada