By Roberta Staley
For CWA Canada
[caption id="attachment_4453" align="alignright" width="226"]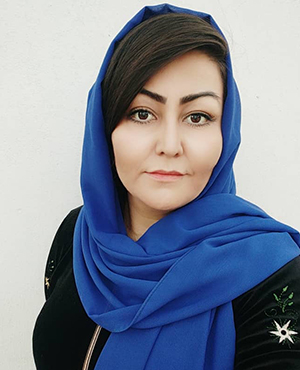 Raihan Tamanna (Supplied photo)[/caption]
Shortly after 1:30 a.m. on Sept. 23, while heading for the Nangarhar Highway in a hired car, Raihan Tamanna glanced back for the last time at the fading lights of Kabul.
The road was empty and the weather good, but numerous Taliban checkpoints lay ahead. Every stop along the 230-kilometre stretch to Torkham International Border Crossing meant potential arrest, as Tamanna's driver wasn't a relative, or "Muhrram" — a serious breach of sharia law.
The vehicle was flagged down several times, but Tamanna's driver spoke Pashto, the language of the Taliban, and they were waved on toward Pakistan.
"Me and my children acted like we were asleep so that the Taliban maybe wouldn't ask any questions of us," Tamanna said. "Fortunately, they did not ask about Muhrram."
Tamanna's survival depended upon anonymity. A former journalist for Ariana Television Network and Rasad News Agency, Tamanna had recently written analysis and reports about Taliban atrocities for the Afghanistan Independent Human Rights Commission and the Ministry of Women's Affairs.
"I have always discussed the behaviour of the Taliban in a terrorist context, because they planned to kill tens of thousands of civilians during suicide attacks and bombings," said Tamanna, 32, a widow.
By early morning, Tamanna and her children — eight-year-old son Barad and seven-year-old daughter Barana — arrived at Torkham, joining a crowd of Afghans. At 3 p.m., the border gate opened. Armed with an official gate pass document procured for them with Canadian support, the family finally made it to the front of the line. Then, the Pakistani guard slammed the door shut, catching Barana's foot and injuring it. The only thing to do was search for a room to spend the night. Tamanna, along with three Afghan families, rented a room together. Her driver brought her food.
When the Torkham gates reopened the next day, the Pakistani border guard approved Tamanna's gate pass document, allowing her to cross to safety.
Tamanna, who flew to Toronto on Oct. 22, is one of the fortunate few to escape the Taliban, which swarmed the country this past summer, triumphantly entering the capital of Kabul on Aug. 15. Most Afghan media outlets were shuttered. Some journalists tried to continue working but were arrested and beaten by the Taliban, who won't tolerate "dissenting voices and do not hesitate to suppress those voices," said Tamanna, who was interviewed for this story via email with the help of a translator, while holed up in an Islamabad hotel awaiting her flight to Canada.
A few days before the Taliban invaded Kabul, Tamanna went into hiding.
"I knew that the Taliban would kill me immediately if they found me, because of my analysis and writings," she said.
She had no passport, and the roads out of Kabul were sealed. Her only hope was the international community.
Tamanna sent "dozens of emails to journalists in various countries." Only one responded: Martin O'Hanlon, President of CWA Canada.
"The support of the union of Canadian journalists saved me from certain death," Tamanna said.
O'Hanlon said he only did what any decent human being would.
"These are people just like us who have had their world destroyed," he said. "They have lost their jobs as journalists and they must give up everything and flee with just the clothes on their backs to save their lives. Imagine if it was you, or one of your family members. You would do everything you could to help."
Tamanna's gate pass into Pakistan was facilitated by CWA Canada teaming with a Canadian media coalition created to extricate Afghan journalists and their families. The mammoth undertaking is led by Journalists for Human Rights (JHR), which has raised about three-quarters of its $1.5-million goal to fund the endeavour. CWA Canada has contributed $20,000 to the cause, and thousands more to other efforts, including the International Federation of Journalists' Safety Fund. The union is also supporting individual Afghans trying to flee, while building a reserve to help them upon arrival, O'Hanlon said.
The goal is to get as many Afghan journalists as possible out of the country — and hopefully to Canada. There are still over 500 journalists and family members on the coalition's lists. Precedence is given to those in greatest danger.
"We base our priority list on the level of threat they face," O'Hanlon said.
As of today, 156 people — journalists and their family members — had made it out of Afghanistan with the help of the JHR coalition. Fifty-one, including Tamanna and her children, have made it to Canada. Most others are awaiting word on their visa applications from a slow-moving Canadian bureaucracy that has left them in limbo in places like Pakistan, Turkey and Qatar, O'Hanlon said.
Hundreds more journalists are trapped in Afghanistan
Hundreds more are trapped in Afghanistan, some hiding in basements or moving from house to house to avoid the Taliban.
In August, Ottawa committed to welcoming 40,000 high-risk Afghans such as interpreters and embassy workers to Canada for resettlement. Minister of Immigration, Refugees and Citizenship (IRCC) Marco Mendicino called it a "moral imperative."
Such lofty rhetoric hasn't been met with logistical support, such as streamlining visa applications. Frustrated media coalition members meet thrice weekly on Zoom to "compare notes, provide updates, and discuss options in the face of changing government requirements, lack of communication from officials, and painfully slow processing of visa applications," O'Hanlon said. "It has been a bureaucratic nightmare."
Rachel Pulfer is the Toronto-based executive director of JHR, which is co-ordinating fundraising and determining where and how to allocate monies for things like overland and air travel and visa fees. Pulfer, too, is deeply frustrated by a "sclerotic" IRCC, finding herself in the "constant process of following up and making sure that files are moving forward for these families."
Many journalists left in Afghanistan are fleeing from safe house to safe house to escape the Taliban, and IRCC tardiness will result in "casualties if they don't act faster," Pulfer warned.
It doesn't help, she said, that the Pakistani government is balking at allowing Afghan refugees holding Canadian documentation into the country, fearing another flood of desperate people will further bloat a population of 1.4 million registered Afghan refugees, some of whom came to the country four decades ago.
Tamanna faces new challenges adapting to Canada while dealing with monumental loss.
"When the Taliban came, I lost my job, my house and the most important thing for me, my freedom."
It torments her to think of the millions of women still in Afghanistan, forbidden by the Taliban's harsh interpretation of sharia law to attend school, work, or leave home without a Muhrram.
"It's like living in a cage which now has been covered by Taliban with a burka."
Canada, she said, is "a sun in the dark sky."
"My goal is to work and make a bright future for my daughter and son."
She will also try to find a way to help those left behind.
"I will do my best to be their voice in Canada."
(Roberta Staley is an author, documentary filmmaker and magazine writer/editor who specializes in international, gender and human rights reporting. She is a member of the Canadian Freelance Guild, part of CWA Canada.)