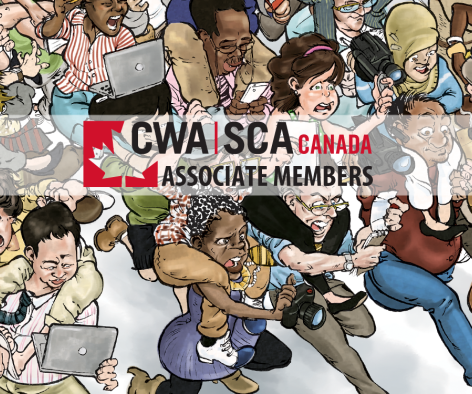 CWA Associates is a community dedicated to connecting student, volunteer and precarious (intern, temporary, part-time) media workers to each other, and to the resources they need to realize their creative and career goals. The free membership program offers members training and networking opportunities, matches members with mentors, raises awareness about workplace rights, and advocates for all media work to be valued and respected.
We welcome all forms of contingent media workers, including journalists, photographers, copy editors, designers, producers, coders, technicians, animators, developers, game workers of all kinds, and social media content creators. You could be a student making the transition to the workforce, a worker in transition from one field of work to the media sector, a volunteer at a community media organization, or a media worker trying to re-establish yourself in the Canadian context.
Join today as an associate member of CWA Canada, the Canadian Freelance Guild's parent union!
Learn more about the program or click the drop-down sections below to learn about the work we do to support careers in the media. You can also check out the latest program news.
Projects and Advocacy
Advocacy for Media Worker Rights
CWA Canada associate members advocate for media workers to be treated fairly. In April 2015, we got our national union to pass a new policy on equitable use of interns in our workplaces. It asks for our union to advocate employers to pay all interns as entry-level employees and to give their interns a contract clearly outlining their terms of employment. The Associate Member steering committee is now in the process of working all of our locals to implement it. Read the full policy here. We've also participated in provincial and federal government consultations on the laws that regulate the use of unpaid interns.
Media Works Project
Media Works is a project of CWA Canada Associate Members, in collaboration with the National Campus and Community Radio Association and the Canadian University Press. It aims to inform media workers (including interns, volunteers, freelancers and employees) of their rights and to improve and encourage labour reporting. The project includes 14 labour reporting piece and a handbook on labour rights and labour reporting. Check it out here!
CWA Canada Intern Handbook
The CWA Canada Intern Handbook was created by the Associate Members Steering Committee. It is distributed at location units of various CWA Canada locals and provides newsroom interns. Our hope is that the handbook will educate interns at CWA Canada location units of their rights within the newsroom, information about our media union, tips for how to make the most of their internship, and tips for leveraging their internship into future work, and eventually, a sustainable career within the media.
Free workshops for schools and student papers on how to build a sustainable career in the media
Interested in setting one up with us? Check out more information.
Benefits of Membership
Mentoring by experienced media workers
Working with a mentor is a great way to get feedback on your work, learn about different opportunities and make a connection in the media. Click here to apply to work with a mentor and for more information.
Training opportunities
Each year, associate members have opportunities to build their skills through CWA Canada training courses and conferences. These include Freelance Fridays, day-long courses, and labour and journalism conferences. Keep an eye out for upcoming opportunities in our e-newsletter and in our Facebook group.
Networking events
Associate members are always welcome to join other CWA Canada and Canadian Media Guild, and Canadian Freelance Guild members at their social events. This is a great opportunity to meet other media workers at local newspapers, CBC, The Canadian Press, Thomson Reuters, and APTN. See some examples of previous events here, here and here.
Paid freelancing and internship opportunities
There are frequent opportunities for associate members to write articles for CWA Canada/CFG publications and websites. Most often, the pieces cover events related to media, youth, labour and/or internships. If you come across an event like this in your city and want to write about it, contact program coordinator Nasr Ahmed at nahmed@cwa-scacanada.ca. Check out past associate member work here.
Information and advice on your rights as a worker
Check out our Media Works Handbook for information on your rights as a freelancer, intern, volunteer or employee. Please also don't hesitate to email (nahmed@cwa-scacanada) or call us (1-800-465-4149 x223) if you would like to discuss your situation at work or have any questions about your rights.
Regular updates through e-newsletters and our Facebook group
Members receive regular e-newsletters (though not more than once a month, we won't fill your inbox!) that contain information about all upcoming opportunities. You will also be invited to join our Facebook group for regular job postings, helpful resources, event listings and discussions about being entry-level workers.
CWA Canada Membership Card
Your CWA Canada card is your sign of media union membership. Your member number will give you access to exclusive union events and workshops. You will receive this card in the mail when you sign up as a member.
Member endorsements
"CWA Canada's online critique program was an incredibly useful experience for me. … my mentor read several of my articles, gave me specific tips … and answered all of my newspaper and career-related questions in detail. As a student journalist, it's difficult to receive constructive one-on-one feedback and a chance to network with media professionals — this program gives you both of those opportunities!"
Kristina Charania, The Peak, Simon Fraser University
"Having a successful reporter take the time to read my articles and give me advice, made a career in journalism feel accessible. My mentor pushed me to improve my work and was able to answer questions that the student newsroom left unanswered."
Kalyeena Makortoff, Ubyssey, University of British Columbia
Become involved in your union
Already an associate member? Current students and young workers can apply to join the CWA Canada associate members steering committee today and join our student union movement in the Canadian media. Become an informed member of the next generation of media workers, participate in union events, take action on issues that affect student journalists, and provide direction to the program that supports you.
Learn more about the CWA Canada Associate Members Steering Committee (PDF)
For more information, contact program coordinator Nasr Ahmed at nahmed@cwa-scacanada.ca or 1-800-465-4149 x223.