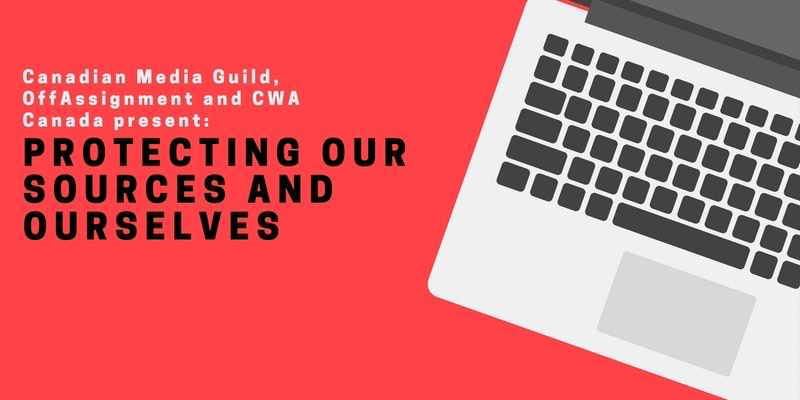 Monday, July 10
6:00 – 9:00 PM
Page One Café, 106 Mutual St.
FREE! RSVP: https://digitalsecuritymediamixer.eventbrite.ca
In an era of mass surveillance and targeted intrusions, our privacy as media-workers – and the security of our sources – is constantly threatened. How do we manage the risks while still reporting the stories that need to be told?
Join us for FREE mixer and round-table discussion that will bring together technologists, journalists and filmmakers to define and tackle these considerable challenges. Drawing on personal experience, they'll discuss best practices for safe digital research and communication– from encrypted apps to burner phones to anonymous browsing and beyond. They'll also address the responsibility that news organizations have to ensure that freelancers and employees have access to the support, resources and training they need to report more safely.
There will be time before and after the panel to meet other freelancers, media workers and students, and to chat with featured mentors about digital security issues facing journalists.
Snacks and drinks will be provided!
This venue is wheelchair accessible and has gender-neutral washrooms.
PRESENTED BY:  Canadian Media Guild, CWA Canada, #OffAssignment

SPEAKERS:

Dylan Reibling – Dylan is an award-winning filmmaker who works across several genres, from documentary to drama. His documentary work focuses on science, technology, and environmental issues – he prides himself on taking complex stories and telling them in engaging ways. He has filmed high-level interviews everywhere from the United Nations Headquarters in New York City to the peak of the Upernavik Iceberg in Greenland. His recent investigative film Looking for Mike led to the solving of a 23-year-old missing person case. Dylan's films have been featured at over 50 film festivals around the world including Toronto International Film Festival, Tribeca, Palm Springs, and the BFI London Film Festival.
Annie Sakkab – Annie is a photojournalist and social documentary photographer who lives in Toronto. Born in Jordan, she has worked and resided in London, Rome, Dubai and Amman. Her documentary practice investigates socio-cultural issues and questions of identity, and seeks to raise awareness on experiences of exile, uprooting, and displacement among marginalized groups. An honours graduate in Fine Art and Graphic Design, Sakkab's photographs have been exhibited in Canada as well as abroad.
Nasma Ahmed – Nasma Ahmed is a black Muslimah working within the intersections of social justice and technology. She is a technologist and community organizer working in Toronto. She is passionate about working with young women and creating spaces for community building.
MODERATED BY: Susana Ferreira – Susana is an award-winning freelance writer and radio producer. She has filed breaking news and features from throughout the world for major dailies, wires, magazines, television news networks and radio, including for Reuters, TIME, Wall Street Journal, Buzzfeed, PRI, CBC, and France24.
FEATURED MENTORS:
Basil Rehan – Basil is a journalist, producer and investigative researcher with a background in live news and documentary production. Currently working on the VICE Documentary series Cyberwar. Previously a Senior News Writer at CBC News Network in Toronto.
Andréa Schmidt – Andréa Schmidt is an award-winning journalist and filmmaker. She has produced & directed more than 20 episodes of Al Jazeera's documentary program Fault Lines. Her last episode examined Apple v. FBI and the debate over encryption in the United States. She helped launch AJ+, a youth-focused digital channel, and worked as an exec producer & showrunner for VICE. Andréa is the founder of What Escapes Production.
Matt Braga – Matthew Braga is a senior technology reporter for CBC News in Toronto, and often covers stories involving privacy, cybersecurity, and surveillance. He was previously the Canadian editor of Motherboard, Vice Media's science and technology website, and before that, a business and technology reporter for the Financial Post.
POSTED IN: CWA Canada Associate Members, Mixer, News
TAGS: Associate Member, CMG Freelance, CWA Canada, Event, news