Join Canadian Media Guild and CWA Canada Associate members at this free event and panel discussion, to celebrate the book launch of "Journalism in Crisis: Bridging Theory and Practice for Democratic Media Strategies in Canada" and discuss the future of the Canadian news media.
What: The Future of Journalism in Canadian News Media – Book Launch and Panel Discussion
When: Feb. 09, 2017, 5:30 – 7:30 PM EST
Where: Ryerson University, Rogers Communication Centre Venn Lounge (RCC 103), 80 Gould St, Toronto, ON M5B 2M7
Panelists for the evening will include:
-Ed Greenspon (Public Policy Forum, formerly of the Globe and Mail, Toronto Star, and Bloomberg)
-Robert Washburn (Loyalist College and qnetnews.ca)
-Gretchen King (University of Ottawa, Community Media Advocacy Centre, and CKUT 90.3 FM Montreal)
-Kam Rao, president of the Canadian Media Guild
This is a chance to meet industry peers and take part in a discussion of Canada's news media ecology.
Beverages will be provided. The venue is wheelchair accessible and has gender-neutral washrooms.
This event is proudly sponsored in part by CWA Canada and the Canadian Media Guild.
*Please RSVP via the Facebook event page.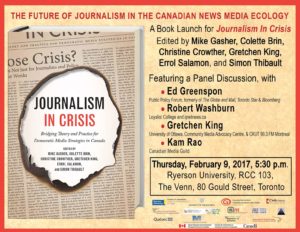 POSTED IN: CWA Canada Associate Members, writers
TAGS: Associate Member