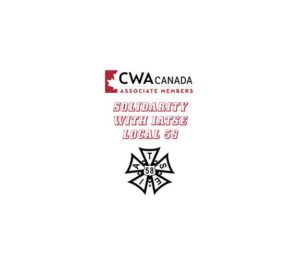 On July 20th, management at Toronto's Exhibition Place locked out IATSE Local 58 workers, ending negotiations for a new collective agreement. This includes skilled workers who provide a variety of world-class services from staging to technical support for events across the city. These workers' expertise in their field is crucial for ensuring public safety, which Exhibition Place now jeopardizes by recklessly relying on under-skilled labour at these events.
While there are many issues on the table, the biggest is management wanting to claw back a substantial amount of jurisdiction and limit the amount of work IATSE Local 58 members can do on Exhibition Place grounds. This lockout comes after months of negotiations, during which the employer has proven they want to contract out work to non-unionized workers and cut job security protections. Our members are all too familiar with precarious work and will not stand idly by as IATSE members' job security is threatened.
The CWA Canada Student/Associate Members take the locking out of IATSE Local 58 members very seriously. An attack on IATSE members is an attack on media and cultural workers around the city and on our industry as a whole. We stand in solidarity with our sisters and brothers at IATSE as this lockout has real-world effects on their livelihoods and their ability to provide for themselves and their families. We encourage everyone to join IATSE Local 58 members on their picket lines to show Exhibition Place that these workers will not back down and that they have the city of Toronto's support.
Exhibition Place board members are appointed by Mayor John Tory, whose silence on the matter is deafening. He must be held accountable for his actions, or lack thereof. We encourage everyone to send a strong message demanding an end to the lockout by emailing Councillor Mark Grimes, Chair of the Board of Governors at Exhibition Place at councillor_grimes@toronto.ca and by emailing Mayor John Tory at mayor_tory@toronto.ca
In Solidarity,
The CWA Canada Associate Membership Program Steering Committee
POSTED IN: CWA Canada Associate Members