Thursday, June 2nd
6:00 PM – 9:00 PM
Page One Café, 106 Mutual St
FREE! RSVP HERE
Join us for a free mixer and panel discussion on using your media skills to find different types of paid work and to make an impact on your community. Snacks and drinks will be provided!
Our speakers and mentors will share their experience and advice developing a sustainable and meaningful career within and beyond journalism.
SCHEDULE:
6-7 and 7-8 PM : Mixer with other media workers and featured mentors
8-9 PM : Panel Discussion
SPEAKERS:
Buffy Childerhose is a writer and  TV director who began her career in print and have covered everything from political assassinations in Cambodia to Scrabble Championships in Montreal. She has been working on crime shows and assorted doc and docudramas for the last decade. The highlight of her career may have been slipping into a river of sewage while working with Doctors without Borders in Haiti.
Angela Misri is a digital journalist and novelist who spent most of her career at CBC Radio producing podcasts, websites and online features. Most recently she has released three books in her popular Portia Adams Adventures series, featuring a Canadian detective in 1930s London. Angela spends her time writing detective stories, teaching at Ryerson University and covering the digital technology beat for various news organizations.
Veronica Simmonds is radio producer based in Toronto. Her documentaries have aired on ABC, BBC and CBC. She has also produced interactive documentary projects including a collaboration with Halifax Public Library called Stackstories and an ode to lake swimming called Body of Water. She also hosts a podcast called Braidio where she braids hair on air.
More information and to RSVP: www.beyondjournalism.eventbrite.ca
This venue is wheelchair accessible.
Presented by: CWA Canada Associate Members
In partnership with: CMG Freelance
[caption id="attachment_2567" align="alignleft" width="330"]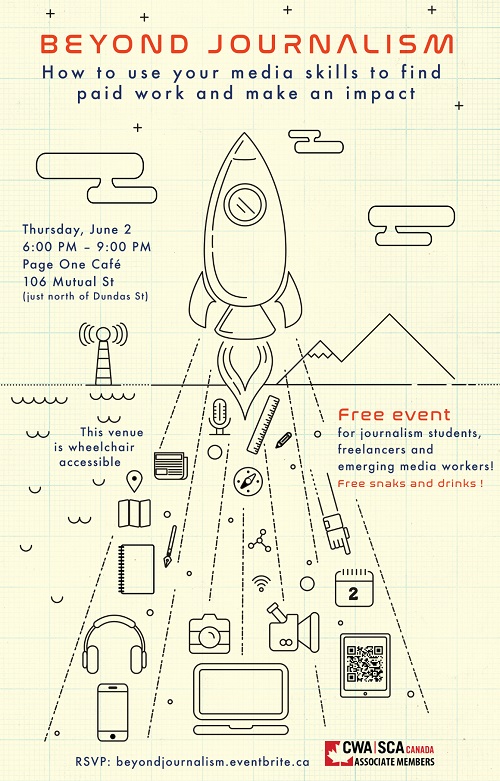 designed by: Patrice Roc[/caption]